Lewis Stokes 10-3 Call or text us! 877-937-7883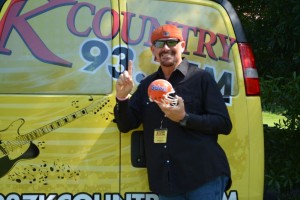 Your workday flies by with 10 in a row with your Host with the Most, Lewis Stokes!  Your favorite songs, back to back!  Plus, Lewis serves up a tasty dish of lunchtime fun with the  
K COUNTRY Kafe
weekdays at 12N!   
Post To The Host
each day and you could win some pretty cool prizes!
Lewis was born in Tallahassee, but he bleeds Orange & Blue.  He is an Air Force veteran, and he's made some radio stops in Maine, Lake City, and Jacksonville.
You'd never know by talking to him, but he is a bacon fanatic (actually, you'd totally know). He also enjoys reading, music, songwriting, and UF Athletics. And you can bet that if there's a country concert going on anywhere from Jacksonville to Fort Lauderdale, Lewis will be there!  He truly loves what he does for a living and he loves K COUNTRY and our K COUNTRY listeners.