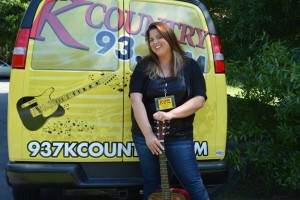 Birthplace: Patterson Army Hospital — Ft. Monmouth, NJ
Marital Status: Married 12/20/97 to Chris!
Children: My son, Taylor
Interests: writing fiction, reading, napping
Favorite Authors: Natalie Goldberg, Janet Evanovich, Jim Butcher, Sandra Brown, Dr. Seuss, Judy Blume, Beverly Cleary
Pets: Our Great Dane, Dave
Radio History: Ocala, Daytona Beach, Orlando, and Evansville, IN
Most Memorable Moment in Radio: Hanging out with Taylor Swift in her "T" Party Room with my husband, son and friend's daughter. The look on the kids' faces was priceless! I met Donny Osmond a few years ago and made a fool of myself asking him if he still had the purple jumpsuit like the Donny and Marie Dolls wore. Of course, Phil Vassar *KISSED* me on stage at our K COUNTRY Jamboree 2007!!! And then there's my boyfriend-in-my-head, Jason Michael Carroll. Ah… good times.
Favorite Movie: When Harry Met Sally, without a doubt! I have the VHS, DVD and the screenplay.
Favorite Country Artists: Jason Michael Carroll, Jake Owen, Chris Young, Keith Urban, Jack Ingram, Taylor Swift, Darius Rucker, Parmalee
If I Wasn't In Radio, I'd Be… writing fiction and baking cheesecakes in Alaska.
Cartoon Character I Most Relate To:
Rose Gumbo from the "Rose is Rose" comic strip. I am *so* there when she morphs into
Vicki the Biker
.