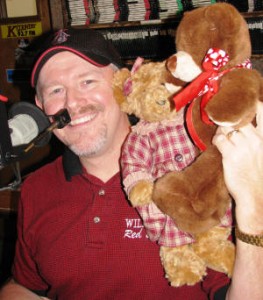 "The Answer Man"
Hey, it's Lewis Stokes. Got a question about anything relating to country music or 93.7 K COUNTRY? I'll research it and try to get you an answer! Please include your full name and where you are writing me from. Also scroll down through some past questions, yours may already be answered down below.
E-Mail your questions now, just click here!!
Q: Hi, I was wondering about the name of the Aaron Tippin song that says something like I left the keys in the car and if she starts she's yours. Thanks a lot. Larissa, Woodstock, VT
A: That's "I Wonder How Far It Is Over You" # 40 on 4/6/91
Q: It's been awhile now but I heard a song on your radio station a couple of years ago and have never heard it again. I am looking for the title, It goes (Where does it hurt, where is the pain you know if I could I would make it go away) that is the only part of the song I remember I really hope you can help me.
A: "Where Does It Hurt " is by The Warren Brothers # 33 in 2001.
Q: I heard an older (not classic) country song the other day and the chorus was "She'd give anything and everything to fall in love…" Do you know who sings this song? I love the song, but I can't get the CD until I know who sings it!!!! Thanks so much for your help!!!!!
Shandi Johnson, Rosepine, LA
A: "She'd Give Everything" is by Boy Howdy.
Q: Please help. I heard this song and the words were like, I'll meet you on the other side, if you make it. I loved it, but can't find out who the name of the artist is. Please help… Thanks, Debbie Lambert PS…Love listening to your country station, online…
A: "You'll Be There" Is By The Great, George Strait.
Q: Hello Answer Man, I really love this song that is out but I do not know the name of it or who sings it. Can you help me please? He sings about all the things he has done wrong in his life including selling his grandpas guitar for beer and gas, and taking a swing at his dad. He goes on about if he had a dime (or dollar) for everything he has done wrong he "Would Be Livin' A Little Higher On The Hog". I hope you can help me find the song title and artist of this great song! Thank You!
A: That's "Startin' With Me" By RCA Recording Artist Jake Owen.
Q: Can you tell me what the number one songs were on the day my kids were born? The dates are December 13, 1988 and December 9, 1989. Thank you very much. Dottie in Brooksville, FL
A: "If You Ain't Lovin (You Ain't Livin') By George Strait # 1 on 12/10/88 and "If Tomorrow Never Comes" By Garth Brooks # 1 on 12/9/89.
Q: What was the number one country song on March 28, 1944? Guy Stewart
A: "So Long Pal" By Al Dexter # 1 for 13 weeks 3/25/44.
Q: I remember a country song in the 90's that two people met in a Laundromat it was a male artist and I think it kind of falls in line with the song "One Boy, One Girl" but I can't remember the song title or the artist. Thanks, Shawn Vinson, Springfield, Oregon
A: Sounds like "What The Heart Wants" By Collin Raye to me.
Q: Hello, I was wondering if you can help us out. We were in Florida on holiday in January this year and there was a song that was often played on the radio when we were on our way to the Disney parks etc. It was a male singer and he was singing about his daughter and how she was now grown up and he was singing the song as if it was her boyfriend and it had a lovely line that he kept repeating; I Loved Her First. I hope you can help us, so that I can buy the album. Regards, Rosita Kitching (England)
A: "I Loved Her First" Is by the group Heartland.
Q: a new song that just came out "How Would You Like To Be In My Wedding" Who sings it? Thanks!
A: "Say Yes" Is By Dusty Drake. Co-Written by none other than Josh Turner.
Q: Sorry to bother you, but do you know who wrote the song "Once In A Blue Moon"? We can't find the answer. I think Earl Thomas Conley performed the song.
A: The song was written by Tom Brasfield and Robert Byrne.
Q: Who is the composer of Mountains by Lonestar. I have to have it for a school assignment by tomorrow so please hurry! Thanks!
A: It was written by Richie McDonald, Larry Boone and Paul Nelson.
Q: We stayed in Florida last winter and heard a song one night on K-Country about how he didn't like going out with someone who drank more than he did. It was quite funny. I'd like to know the name of the song and who sang it? Roy
A: That's "Drunker Than Me" By Trent Tomlinson.
Q: Hello Answer Man! My name is Julie and I live in Southern California, however I grew up in East Tennessee and was raised on good. old country music! I've been searching and searching for days looking for the name o a song/artist. It's by a male artist in the early 80's. I believe. It's about a man and his daughter, growing up on the road and a woman left them to become a famous singer/actress and she's coming to their town, and he wonders if she ever thinks of them. Sure hope you can help! I'm about ready to give up! Thank you ever so much! Julie
A: That's "Everything That Glitters (Is Not Gold)" By Dan Seals. # 1 on 4/5/86.
Q: My mom is dying to find out who sings the song that says something about an eagle soaring in the sky and then something about the touch of her fingers on his skin and then goes "Loving her was easier than anything I'll ever do again". Thanks, Brenda from Checotah, Oklahoma
A: Tompall & The Glaser Brothers recorded that song. # 2 on 5/2/81.
Q: I have heard the song by Tanya Tucker and a male singer. the name of the song, "I won't take less than your love". Could you tell me what CD it is on?
A: The CD is "Love Me Like You Used To" from 1987.
Q: Do you know of a song, I think "Every man for himself". Maybe Neal McCoy around 99 or 00? Thanks, Wade, Pierson, Florida. "I Love K-Country!"
A: Thanks Wade! Neal McCoy took that song to # 37 in 2000.
Q: What year did Hank Williams Jr. fall off the mountain in Montana?
A: August 8, 1975.
Q: I heard a song probably 20 years ago. I might be wrong but it sounded like Down Yonder but had words that included "Waitin' On The Robert E. Lee." I hope that I am correct on this and not leading you on a wild goose chase.. Was there such a song. And by who? Steve Luhring, Evansville, Indiana
A: "Down Yonder" is by Del Wood. It peaked at # 5 in 1951.
Q: I just heard a song with a male singer saying "Yes Sir". It sounds like a man asking for permission to marry the other man's daughter. Can you help me out? Dave from Sarnia, Ontario, Canada.
A: I believe that may be "No Sir" by Darryl & Don Ellis. # 58 in 1992.
Q: Can you tell me who sang the song "Remember Me, I'm The One Who Loves You." ? Banjomamma@comcast.net
A: It reached # 2 in 1950 for Stuart Hamblen. # 5 for Ernest Tubb in 1950 and # 2 for Willie Nelson in 1976.
Q: Hey I heard this song a long time ago like mid 90's. "A Dozen Roses On Her Wedding Day" That's the only part I can remember. the song was about a daddy and a little girl and then he passes away but there were a dozen roses waiting for her on her wedding day from him. Krystal Nicole Showers, University Of Virginia At Wise
A: That's "A Dozen Red Roses" By Tammy Graham. 1997.
Q: What album is the song "Daddy's Money" on? I can only find the live album. I want the radio version can you help me? Carley, Marion, North Carolina
A: It's from their 1996 debut album called "Ricochet" Columbia Records Label Number 67223.
Q: I'm stumped! There's a song about a guy who buys a car from a woman. It's been hidden away for a long time. her soldier son left it in mint condition and never came back. the guy who buys it feels the ghost of the soldier next to him when he drives. Can you help? Heather, Victoria, BC, Canada
A: That's "Riding With Private Malone" By David Ball.
Q: Who sings "Teddy Bears Last Ride" ? Wanda
A: Diana Williams recorded that song. # 53 In 1976.
Q: Please tell me the name of the artist and correct title for "Tell Ole? I'm Not Here" . I need it for my Mom's 80th birthday party. William Majors
A: "Tell Ole I Ain't Here, He Better Get On Home" is by Moe Bandy & Joe Stampley. # 11 in 1980.
Q: Hi, Can you tell me the number one song on the date August 3rd, 1993? That is the date I was born. Please and thanks. Holly
A: "It Sure Is Monday" By Mark Chesnutt.
Q: Hi There, I can't believe I have found such a wonderful site. My name is Bonnie and I live in Canada. I am not sure who sings "C B Savage".
A: That was by Rod Hart # 23 in 1977.
Q: Lewis, Do you happen to know who did the song from July-September 1978 called "Tonight Let's Try To Remember" or something like that. It was a male artist but I don't remember his name. Thanks, Cathy
A: "Let's Try To Remember" is by David Rogers # 32 in 1978.
Q: I recently heard a song describing the three hardest things this man ever had to do. the third hardest was to leave his true love, the second hardest was something else, and the hardest thing he ever had to do was to tell her about you, or tell his wife about his true love. I appreciate any help you can give. Rene, Alabama
A: "Holding Her And Loving You" Is by Earl Thomas Conley and also re-recorded by Clay Walker on his "Live, Laugh, Love" album.
Q: Sir I was wondering if you could help me find the name of a song. The only information I know is, it's a guy that sings it, and some of the lyrics go something like…"If I die before I wake, pray the Lord my soul to take…PJ he's been a good dog. I hope you can help me out. Thanks, Jerod W. Houston, TX
A: That's "Feed Jake" By the Pirates Of The Mississippi
Q: There is a country song out that starts with the words It's 3 AM and also says something about cuts the deepest….My husband and I have been trying to find out who sings it and the name of it. Can you help? Sara, Parkersburg, West Virginia
A: That's Jason Aldean's followup to "Hicktown" called "Why".
Q: Can you tell me the number one country song on September 28, 1974? I can't seem to find it, and that date is our anniversary. Neither my husband or I can seem to remember it. Thanks a lot. Maggie, Fort Atkinson, Wisconsin.
A: "I'm A Ramblin' Man" By Waylon Jennings. # 1 on 9/28/74.
Q: Garth Brooks has a new song on his latest CD "The Lost Sessions" called "Fishin' In The Dark". I think it is a remake but I can't remember who sang the original. Diana Formash, Cincinnati, Ohio.
A: The Nitty Gritty Dirt Band.
Q: Who sings the song that goes something like "I've got dreams…getting me through the night. You say you don't love me, but someday you might". Thanks, Katie.
A: That's "I've Got Dreams" By Steve Wariner.
Q: Please help! Who sings "Why does it always come down to you leaving…before I say I love you, oh tell me why do I do this to you." Thanks, Your friends at Alaska Airlines in Reno, Nevada.
A: That's "Why" By Jason Aldean.