Doug Rockwell 7PM-12M 877-937-7883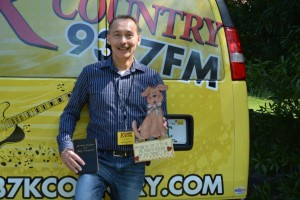 Our very own Doug Rockwell brings you into the mix with the After Hours All Request Show weeknights from 7-10PM.  Pick up the phone and give him a call at 833-937-7883.  You can also e-mail him, or send him a message through our Facebook or Twitter pages! You could even become part of the show as Doug Rockwell turns you into a special guest on his fun and fast-paced show!
He's also your go-to guy for the Saturday Night Gold Rush 7PM-12M.  He loves giving you little nuggets of gold all night long.
Doug was born in California, and adores his furry "kids."  He's a wonderful doggy-daddy who enjoys karate, chess, NASCAR, and history.  He once found himself surrounded by Secret Service Agents after lying a bit to get on board for President Jimmy Carter's trip down the Mississippi in the 70s.
You can contact Doug at Doug@937kcountry.com